RoctoberFest Battle of the Bands - October 25, 2008 Oaks, PA
HarpHaven
Pottstown, Pa.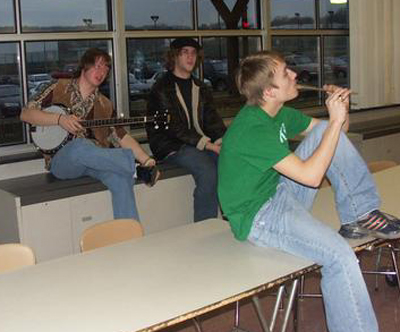 Mp3s

Untitled 1

Untitled 2
HarpHaven is a blues and rock inspired band for all ears to hear. Recently becoming a hardened trio, the group began years ago when Ryan and Nathan started jamming on the guitar with each other. Their jam sessions eventually evolved into what became the foundation of HarpHaven. After four years, Steve joined the group to supply the rhythmic sensations of HarpHaven. All members have studied music theory and practice a multitude of instruments. Check out their Myspace page for performance videos.


• David Spencer
• Evolv
• From The Balcony
• Furious Waffle Party
• Harp Haven
• IdolMind
• My Ebenezer
• Ninety Nine North
• Rocket 88
• Woodland Avenue

"We want you! Call 610-650-8450 to enter the battle. Ask for Nick."

---


422 Business Center
Oaks, Pa., 19456.
Click her for directions to find Sports Extreme!

---


General Admission is $20.
VIP with waitress service $25.
---

Sept. 1: Looking for bands, call 610-650-8450
Oct. 25: Live Roctoberfest Battle of the Bands & Halloween Party
---