RoctoberFest Battle of the Bands - October 25, 2008 Oaks, PA
NinetyNineNorth
www.myspace.com/ninetyninenorth
Wayne, Pa.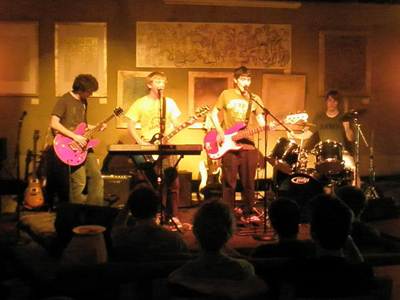 Mp3s

Awake

Until The End
NinetyNineNorth is an alternative rock band formed by lead guitarist Pat Sabol and drummer Paul Narrigan in 2007. The band was completed with the additions of John Bucaccio on bass, Pat Hicks on rhythm guitar and Grayson Fitzgerald singing lead vocals. They have since played shows in their hometown of Wayne, PA and surrounding towns such as Ardmore and Allentown. Recently they finished a four-song, self-titled EP which they recorded in Pat Hicks' home studio.

On tracks from their EP such as "Awake" and "Until the End," NinetyNineNorth shows off their energetic and catchy style of songwriting which is filled with pleasing vocal harmonies and melodic riffs.

The band's sound is heavily influenced by bands such as Rise Against, Saosin, Thrice, and Brand New. They continue to play shows and record music with the intent of releasing their first full length album later this year..


• David Spencer
• Evolv
• From The Balcony
• Furious Waffle Party
• Harp Haven
• IdolMind
• My Ebenezer
• Ninety Nine North
• Rocket 88
• Woodland Avenue

"We want you! Call 610-650-8450 to enter the battle. Ask for Nick."

---


422 Business Center
Oaks, Pa., 19456.
Click her for directions to find Sports Extreme!

---


General Admission is $20.
VIP with waitress service $25.
---

Sept. 1: Looking for bands, call 610-650-8450
Oct. 25: Live Roctoberfest Battle of the Bands & Halloween Party
---