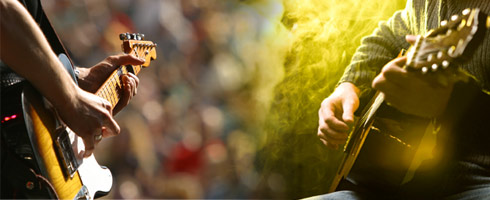 Rocket 88 rocks competition, claims Battle of Bands crown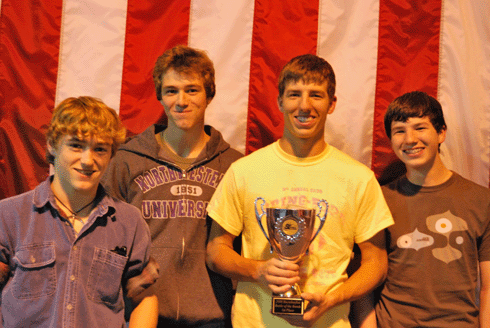 p
Photo by: Jamie Ducary "Battle of the Bands champs, Rocket 88"
CHAMPIONS: Rocket 88
Runners Up: Furious Waffle Party
Honorable Mention: Woodland Avenue
Honorable Mention: Evolv
Honorable Mention: Dave Spencer
Best of the Rest: The Final Touch, NinetyNineNorth, My Ebenezer, HarpHaven, Patrick Walsh
OAKS – Amidst torrential downpours, a Who concert, a Flyers game and a city up in arms over a landmark World Series game—there was plenty for Philadelphia and its suburbs to make noise about Saturday night, Oct. 25.
But some of the most promising noise came from Sports Extreme's Cisco Arena in Oaks that night, where 10 young bands from across the region came together to fight for first Roctoberfest Battle of the Bands title.
Though the top five bands all scored closely with the panel of judges and audience applause, hometown classic rockers Rocket 88 squeaked by with the win.
But just barely…
Furious Waffle Party, took the stage as the crowd favorite after dominating the online vote at www.rockaroundphilly.com. The Reading group also scored the highest in crowd applause, thanks to their rabidly passionate fanbase who came along to support, but fell just a chord short of Rocket 88's score.
Rocket 88's set included a swaggering cover of the Black Crowes hit "Hard To Handle" and a spot-on version of the Allman Brothers' "One Way Out." But it was their original material ("Rain" and the undeniable toe-tapper "Everywhere I Go") that earned them the high marks. The young band's own songwriting stood out just as memorably amongst the two cover songs, which says quite a bit.
The champs won $250, the Battle trophy, an opportunity for free studio time at Lil Drummaboy Recordings in Philadelphia, an offer for free Web site development, and will get to play a set at Citizen's Bank Park in Philly for an upcoming charity event.
For a more in-depth look at the night and the bands who battled, check out judge Chris March's blog Scene & Heard (link to: http://www3.allaroundphilly.com/blogs/pottstown/chrism/2008/10/verdict-is-in-for-battle-of-bands.html)
Jennifer Reed helped host the event with radio rock station 94 WYSP and gave away prizes to fans between sets. Little Red Riding Hood and the Big Bad Wolf took home a prize for winning the best Masquerade Costume Contest.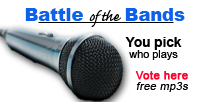 THANKS FOR YOUR PARTICIPATION!
And the winners are...
Furious Waffle Party 55 VOTES

David Spencer 38 VOTES

Rocket 88 35 VOTES

My Ebenezer 22 VOTES

Evolv 19 VOTES

Ninety Nine North 11 VOTES
---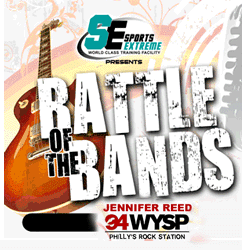 The Choice Is Yours
We've enlisted an eclectic group of talented up-and-coming bands and musicians, but now it's up to you to choose which ones you want to hear at the Roctoberfest Battle Of The Bands & Masquerade Party.
From Oct. 15 until Oct. 22 you can download 2 songs from each participant right here and vote for your favorite (browse the groups on the right sidebar for their RockAroundPhilly profile and mp3s). The top 6 groups will be selected to perform in the Roctoberfest Finals, Saturday, Oct. 25 at the Cisco Arena in Oaks, Pa.
For more information, email promotions@pottsmerc.com.
---
The Roctoberfest Battle of the Bands Finals & Masquerade Party
Xtreme Productions & Sports Extreme in association with Cintron Beverage Company, Water To Go!, The Mercury & The Times Herald, and RockAroundPhilly.com present: Sports Extreme's Battle of the Bands & Masquerade Party, 7 - 11 p.m., Oct. 25, 2008.
Come out and enjoy a great meal while listening to up and coming bands chosen to perform by online voting at www.rockaroundphilly.com, dance the night away with the Lil' Drummaboy Production Team, and more. There will be prizes for the best Halloween costumes, food, fun and games all night long.
The event will be hosted by 94 FM WYSP's Jennifer Reed.
All band finalists will play four songs each. Crowd applause will decide the champion group from the battle. Winning group wins a music industry starter package that includes lots of great prizes from the sponsors and supporters.
Tickets prices
General Admission: $20.00
VIP with Waitress Service: $25.00
For more information on event or bands, call 610-650-8450 and ask for Nick.
---